Le Camélia – gastronomic restaurant
A new appearance for Le Camélia !
Without further ado, push the door of the "Camélia", a Michelin-starred restaurant which, after several months of closure, has given itself a full, very stylish makeover. With alterations to the façade, an open kitchen, a chef's table, a bar, noble, sophisticated fabrics and colours, everything has changed except for the key ingredients: Thierry's cooking and Elisabeth's welcome !
A haunt for the "famous"
Before Jean Delaveyne bought the inn in ruins in 1958 to transform it into the Camélia, the premises had already been frequented in the 19th century by an elite group of gourmet food lovers. The atmosphere in this restaurant also inspired numerous artists, impressionist painters and writers such as Alexandre Dumas, who had as much passion for the food as he had for the illustrious "Lady of the Camellias" whom he met here.
With a first star gained by Jean Delaveyne in 1963, and a second in 1968, the restaurant lived up to its reputation and the Tout Paris used to flock there. A number of today's well known and respected chefs received their training in the kitchen there, such as Michel Guérard, Alain Senderens, Joël Robuchon, Jacques Chibois, Bernard Loiseau and Roland Durand, etc. The list is long!
In 2003, it was the turn of Thierry Conte, the present owner of the premises, to gain a first star in the Michelin Guide, which he repeated in 2008, and today the very quintessence of revived culinary art can be enjoyed in this great Bougival restaurant.
Inventive neo-traditional food "Cooking is an art, and a chef is an artist because he can express what he feels, what he really is" states Thierry Conte who draws his inspiration from all his different experiences. All the subtle flavours of delicious, original food, constantly reinvented depending on the products available on the market, can be found in the dishes that he passionately concocts.
So of course, we have no choice but to succumb to the temptation …. And preferably more than once !
A STARRED CHEF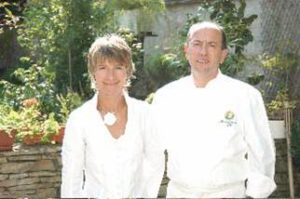 "Cooking is an art, and a chef is an artist because he can express what he feels, what he really is". These are the words of Thierry Conte, the chef at the CAMELIA, who has succeeded in keeping the star he received from the prestigious Michelin Guide. Established since 2001 on the banks of the river Seine in the famous restaurant once run by Jean Delaveyne, he carries on a tradition of excellence alongside his wife, Elisabeth, a pastry chef met in the kitchens of the Tour d'Argent.
Although he refuses to describe his cooking, Thierry Conte nevertheless admits that his memories of taste come from his childhood. A childhood spent in the kitchen with his mother who therefore influences his culinary creations. As long as he can remember, Thierry Conte has always wanted to be a chef. A real little apprentice at family reunions, at which there could be as many as 30 guests, his
career was totally mapped out for him. He took his first steps in his parents' friend's restaurant where he discovered the joys of washing-up and preserving produce from the vegetable garden. He then attended Besançon catering school and Mr André's cookery classes. Armed with his diploma, he went up to the capital where he built up experience alongside great chefs such as Dominique Bouchet, Joël
Robuchon, Gérard Boyer, Marc Meneau and their three stars, spending three years at the Tour d'Argent and not forgetting the best training he received, military service which he spent… doing the cooking!
A keen traveller, his experiences in the United States, in New Caledonia and even in Japan have made him more open-minded and particularly passionate about desserts made with fruit and honey of which he has become an expert. "Cookery is a wealth of knowledge that you gain from all your experiences.
What is outstanding about it is that it offers so many opportunities for trying out and creating new dishes every day. " A credo that he applies every day in his restaurant where he is not averse to shouting his head off !
Although the first star he gained in 2003 came as a real surprise and was an unforgettable moment, Thierry Conte does not feel any particular pressure today. He considers the star to be a new challenge and an additional motivator. "cooking means constant renewal, I cannot become lax. Keeping my star is certainly satisfying and recognition but it is not an aim in itself. "
His greatest reward? Former customers of the Camélia who are gradually returning to savour the delicious dishes made by this lover of roast chicken…
History of the Camélia
50 years ago, JEAN DELAVEYNE set up the "Le Camélia" restaurant in Bougival.
Jean Delaveyne, nicknamed "the sorcerer of Bougival" was born on 22 May 1919 in Marolles en Hurepoix, of a mechanic father and dressmaker mother. At the age of 12, he began his apprenticeship as a pastrycook in Saint-Maurice (94), near the Bois de Vincennes. He continued his training in a number of distinguished establishments, such as the Brasserie WEBER, the Bœuf sur le toit in Paris and
the Hermitage in La Varenne. However, in 1939, war interrupted his career in prestigious kitchens. He was drafted into the famous 2nd Armoured Division and taken prisoner on 19 May 1940. Having been transferred to Germany, he escaped twice, joined the Resistance in the Morvan and was involved in liberating the town of Avallon in June 1944.
When he returned to civilian life, he sought his way in life by studying at the school of Fine Art.
However, he took up his position in the kitchen again, becoming a "Meilleur Ouvrier de France" (Best Craftsman of France) in 1952. He improved his knowledge of cooking in over 27 establishments, before taking over the "Roy Soleil" in Marly le Roi. He soon noticed that the rooms in his hotel above the restaurant were more often rented for napping than for an overnight stay…
In 1958, he bought a dilapidated inn in Bougival which he refurbished and called "Le Camélia". It rapidly became successful and he managed his firm briskly. In the kitchen, he "reigned" over a brigade of 18 people, washer-ups, apprentice chefs, station chefs and pastry chefs. His wife, Yvonne, and his son, Guy, assisted him in the dining room along with fifteen or so people, apprentices, assistant head waiters and a head waiter.
In 1963, the Michelin Guide awarded him his first Star which was to be followed by a second in 1968.
The "Tout-Paris" flocked to his establishment and bookings had to be made at least three weeks in advance. In 1975, President Giscard d'Estaing came to eat there incognito with two of his children. His reputation soon became international, and among his famous guests, the Egyptian President, Anouar el Sadate honoured him by dining in his restaurant on 12 February 1981.
When he was asked the secret of his food, he replied: "all my dishes differ from one another and every day I offer a seasonal preparation featuring my latest discoveries… In my restaurant, everything is fresh. Nothing stays in the cold room for long". He used seawater fish tanks, dealt with salting and maturing hams, smoking salmon and maturing Norman cheeses, etc. At night, he would often get up to
note down a new recipe!! His slogan was: "When it's good, there is nothing better".
The food critics of the time were the first to recognise his qualities: Gilles Pudlowsky nicknamed him: "the grumbler of the Gourmet Republic" and Henri Gault considered that he was "haunted by the Demon of Invention". Jean Didier said that he "possessed an imagination as great as his knowledge".
It is worth mentioning a few specialities that some people still dream of :* La Grenouillère-style seared duckling
* Gypsy salad
* Bordeaux-style crayfish
* Lobster stew
* Chambourcy-style charlotte
Despite his difficult personality (and this is an understatement), a number of young people who were to become famous trained at the Camélia, among whom can be mentioned: Michel Guérard, Alain Senderens, Joël Robuchon, Jacques Chibois, Bernard Loiseau and Roland Durand who was his successor for a time.
Uncompromising and quick-tempered, he did not tolerate mistakes; some people were "sacked" one evening in a fit of temper and "taken back" the next day thanks to his wife, Yvonne's, kindness and restraint.
Curious and eclectic, he was interested in everything; he was passionate about mushrooms and was a highly knowledgeable mycologist; he gained the City of Paris diploma in beekeeping; he learnt to play the guitar and tried his hand with some talent at painting and poetry. He was one of the first French Chefs to take an interest in Japanese food and he regularly went to Japan twice a year.
Among his responsibilities, he was Founding President of the Chambre Syndicale de la Haute Cuisine Française (Trade association of French Haute Cuisine), Founding Vice-President of the "Les Toques" (Chef's) International Club and also a Full Member of the Culinary Academy of France. He received a number of decorations, among which should be mentioned: Knight of the Legion of Honour, Knight of the National Order of Merit, Knight of the Order of Arts and Letters and Commander of the Order of Agricultural Merit.
In 1988, he decided to leave Le Camélia after 30 years and retired to Marly, while continuing to cook for his family. Several Chefs succeeded him, in particular, Roland Durand and Hervé Gourbin. Then Thierry Conte restored Le Camélia to a state of well-deserved prestige. In 2003, his status was recognised by the Michelin Guide which awarded him his first Star which he kept thereafter brilliantly, while waiting for the second…
Jean Delaveyne died in 1996 at the age of 75 after a well-deserved retirement. Many people miss him but they will remember his enthusiasm because he often used to say: "isn't enthusiasm an inner God that leads to everything? ".
*At the request of the Association of Former Employees of Camélia… The opening was presided over by Madame Pascal, the Mayor of Bougival in the presence of several Town Councillors, numerous "Former Employees" of Le Camélia and Thierry Conte, the present owner.