Auguste Renoir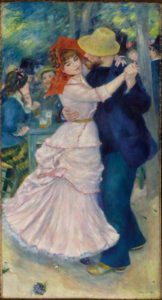 "Dance at Bougival" – 1883 – Museum of Fine Arts in Boston
Although Auguste Renoir did not settle down in Bougival, he had the opportunity of coming to paint on the banks of the Seine on several occasions. In 1868-1869, coming from Louveciennes where his family lived and joining Claude Monet in Bougival, the two of them set up their easels at the Grenouillère.
"View of Bougival" (La Grenouillère is an inaccurate title) painted on the Island of La Chaussée near the Boaters' Dance does not yet have the "impressionist" touch, which was nevertheless already found at the time.
However, the period between 1879 and 1888 was productive and his finest paintings date back to this time. "The Dance at Bougival", "The Two Sisters" (on the Terrace), etc. In these paintings Renoir's special talent for depicting the human face asserted itself.
"His whole life and his work are a lesson in happiness", stated the critic Octave Mirbeau.