Bougival Tourist Information Office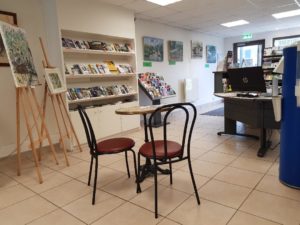 7 rue du Général Leclerc (Théâtre du Grenier) 78380 Bougival
Tel : 01 39 69 21 23
email : contact@tourisme-bougival.com
access map
Opening hours
  Monday to Friday 2:30 p.m until 5:30 p.m Tuesday, Wednesday and Saturday 10 a.m until 12:30 a.m   Closed Sunday and public holidays
Bougival Tourist Information Office is a window on the town.
Its main purpose is to welcome tourists and local visitors and to provide them with information as well as to manage and promote our rich heritage, while implementing a tourism strategy that develops and enhances the success  of our town's economic stakeholders.
A range of documents is available providing information about practical matters and sightseeing, accommodation, catering and events, in partnership with our local and regional stakeholders.
The "Bookshop" stand offers a range of books, postcards, bookmarks, …
Bougival Tourist Information Office will help you to spend an enjoyable time on the banks of the Seine where you will discover some charming sites!