Berthe Morisot
Berthe Morisot lived and worked in Bougival, at 4 rue de la Princesse where she rented a house and spent every summer between 1881 and 1884 there. During 1982, she spent most of the year at the house with her husband Eugène Manet and her daughter Julie. The house had a very large garden full of flowers. She painted about forty paintings there: The Fable (1883), The Quay at Bougival (1883), Eugène Manet and his daughter in the garden (1883), On the Veranda (1884), Garden at Bougival (1884), Roses trémières (Hollyhocks) (1884), …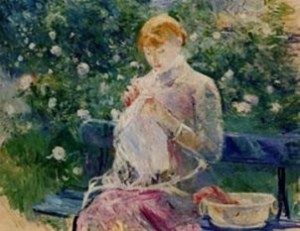 She used light, iridescent hues. Light played a prominent role. We find her love of gardens again in the rose bushes behind Pasie sitting on a bench. The flowers, the bench and Pasie occupied most of the canvas.
She loved depicting nature, especially the garden, whether this was with its flowers or occupied or bustling with figures.
She had a very personal artistic style which set her apart from her impressionist friends.