The Marly Machine Dam – Alfred Sisley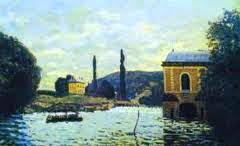 The painting depicts part of the building housing the 6 huge wheels installed across the branch of the Seine. The Machine was finally demolished in 1968, amid general indifference, when a dam for regulating rises in the level of the water in the Seine was built.
The small brick edifice was an annex to this building The house on the left of the composition, on the Island of La Loge, is still there. The artist had in fact set up his easel a little further behind, by the existing bridge, because this enamel plaque is located exactly in the spot where the machine, which jutted out into the water, was located.