Church of Notre-Dame de l'Assomption
The Church of Notre-Dame de l'Assomption (the Assumption of Our Lady)
was built during the first half of the 12th century and was restored at the end of the 19th century by Lucien Magne, one of the architects of the Sacré-Coeur in Montmartre.
Its 12th century bell tower is a listed building. The church has two capitals, also 12th century, situated at the entrance to the chancel.
The baptismal font dates back to the 16th century and the altar, carved from gilded wood, to the 17th century.
In the south aisle, you can see the epitaph for Rennequin Sualem, the inventor of the machine known as the Marly Machine. The Art Nouveau mosaics and the succession of stained glass windows from the same period on the south side are also worth mentioning.
The ancient high altar in Carrara marble was restored in 2009.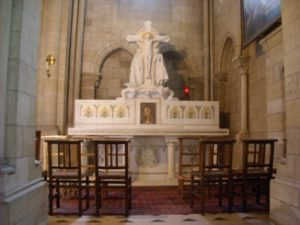 The church:
Length: 36 m – width: 14 m
Height: 17 m
The nave: length: 21 m – width: 6 m
The bell tower: width: 6 m – height: 36 m
place des Combattants