Noteworthy museums and houses
Georges Bizet's House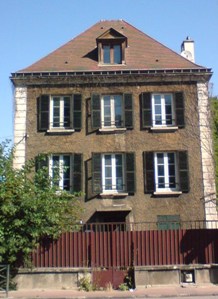 This house, which was rented by Georges Bizet, was built in the 19th century on the banks of the Seine, at the very entrance to Bougival as you come from Rueil Malmaison. It is obvious that there used to be considerably less traffic than there is today even though, at the time of the Belle Epoque, a horse-drawn tram line, nicknamed the "American railroad", connected Rueil Malmaison to Port Marly.
Around this house, you will notice some beautiful town houses, which were also prestigious during the last century.
On 3 June 1875, Georges Bizet died at the age of 36 in this house. A Knight of the Legion of Honour and former recipient of the Prix de Rome bursary, this opera composer stayed in Bougival from 1874 to 1875 and composed "Carmen" here.
On 1 June 1912, a commemorative plaque was affixed to the outer wall of the house (moved to the wall on the left of the garage on the Seine side in 2010 and replaced on the street side by another bilingual plaque).
Visit this private house in groups of 19 people, by courtesy of its owners who wish to bring back to life the splendour of what this site, which inspired the famous composer to compose "Carmen", used to be.
For group visits, please register with Bougival Tourist Information Office.