Bougival's Golden Age
The Impressionists
This was the time of the "Belle Époque", with its promenades, its boaters, its guingettes (open-air cafés with dance floors), its restaurants and hotels !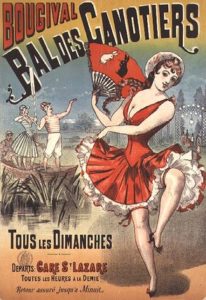 The Boating Party in Bougival and the La Grenouillère Dance in Croissy competed with each other and Parisians jostled each other at them. People went boating everywhere, regattas and jousting events were organised every year; Rueil-Malmaison and Bougival Casinos enjoyed fleeting success in the 1880s.
Attracted by this enchanting setting of water, islands, hillsides, and its easy access, painters arrived on our banks of the Seine.
Turner was the first to succumb to the their charm. Corot and Louis Français were to follow him. Renoir, Monet, Pissarro, Sisley and Berthe Morisot would make the light, the water, the sky, the countryside and the faces shimmer. Historians of art locate the "cradle of Impressionism" here. Vlaminck and "Fauvism" would take over from them and a tradition of painting would from then on remain attached to our town.
Many writers, composers, scholars and celebrities of the time had been able to recognise Bougival's delightfully pleasant lifestyle. Some found their inspiration there, such as Georges Bizet, who composed "Carmen" and Ivan Turgenev, who lived there with his muse, Pauline Viardot. Alexandre Dumas fils stayed there with Marie Duplessis, who inspired him to write "the Lady of the Camellias".
Today, Bougival has kept its character as a small town in the Ile de France region. The main street, the quays where most of the shops are situated, the craftspeople and restaurants are in an ideal location opposite the Seine. Its wonderful woodland setting and its protected impressionist sites ensure that it is still possible to imagine the town as the painters and writers must have seen it and admired it.