Camille Pissarro
A resident of Louveciennes, from spring 1989 until September 1870, then in 1871-1872, Camille Pissarro (1830-1903) was attracted by the banks of the Seine at Bougival.
With his friend, Alfred Sisley, he set up his easel near the lock and depicted the activity of barges on the river. Signs of life are apparent, with smoke coming out of the funnels of the barges, which had recently been equipped with steam engines, and a cargo of barrels of wine can be seen in a barge approaching Bougival lock.
Even the wake behind the boats can be seen. These landscapes mark a development in the painting style of the artist who was still influenced by Courbet and Corot. However, in "Laundry Houses at Bougival" the impressionist's new style asserts itself with its juxtaposed touches, light colours and clear, transparent sky.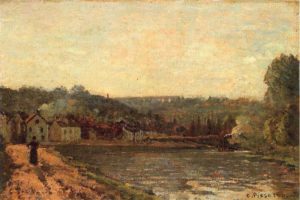 Discover one of its paintings along "the path of the impressionists"