Georges Régnault
Georges Régnault (1898-1978), a painter from Bougival who considered himself to be the "last of the Impressionists".
During his career, he was the Founder and President of Bougival Tourist Information Office in 1962 and was to set up and then lead the Bougival Academy of Painting from 1973.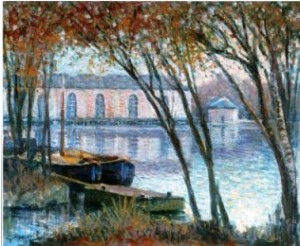 On 21 April 1978, he exhibited at the 14th Salon des Peintres (Exhibition of Painters) in Bougival on the theme "Bougival et ses environs "(Bougival and its surroundings). On 28 April 1978, Georges Régnault's 60th anniversary as a painter was celebrated. The town celebrated his 80th birthday on 21st October of the same year.
Made a Knight of the Legion of Honour in 1961, he was awarded the rank of Officer of this order on 31 December 1970.