River landing stage
Bougival's history is closely linked to the Seine.
At the time of the Impressionists, the banks of the Seine were full of life and the inhabitants used to indulge in water-related activities.
To develop river tourism in Bougival, an 18 m landing stage is now in operation.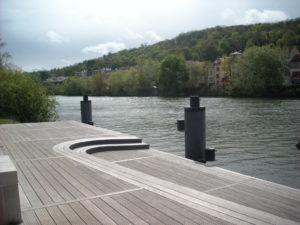 The landing stage was built on theIsland of La Chaussée, on the right bank of the Marly branch, upstream from the bridge over to the Island of Chaussée. The landing stage, built on piles, measures 18 metres in length (3 mooring dolphins).
The purpose of building four river landing stages, developed by the communities of Bougival, Carrières-sur-Seine, Chatou and Croissy, is to revive this tradition and make the development of river tourism (cruises) possible again by providing mooring areas.
The planned facilities have been designed according to strict specifications, including constraints relating to flooding of the sites, conditions for accessing the water directly and compliance with regulations for sailing on the Seine.
These landing stages blend into the landscape perfectly as part of the process of preserving the local heritage.
Bougival town council has created an impressionists walk paying tribute both to the painters who travelled around Europe (Claude Monet, Berthe Morisot, Renoir, Alfred Sisley, etc.) and those whose influence was only local (Vlaminck, etc.).
This walk complements the "Chemin des Impressionistes" (Path of the Impressionists), which has existed for 15 years and was created by the SIVOM (multipurpose intercommuncal syndicate) of the Coteaux de Seine area. It displays thirty or so reproductions of 19th century works between Carrières sur Seine and Pecq.
Sailing on this section of the river again will make it possible to make the most of the islands and banks of the Seine, which have been little urbanised and are ideal for relaxing and maintaining a flourishing ecosystem.