Banks of the Seine at Bougival – Albert Lebourg
Attracted by the Seine valley, Albert Lebourg painted the quay bordering the Seine coming from Rueil many times. Monet and Pissarro had already chosen this landscape where the houses follow the curve of the river, with the Marly aqueduct just visible in the distance.
In this canvas the huge sky, in which winter mist still floats in the air, colours the surface of the river with its pearly reflections. The immaculate snow creates a stillness that is disturbed by some white smoke rising. Like his impressionist friends, Lebourg, a painter of the countryside between the land and sky, captures the nuances of an early winter morning.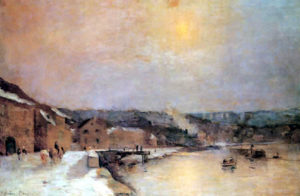 Banks of the Seine, 1885, oil on canvas 81 x 130 cm, Museum of the Petit Palais, Geneva