Marly, embarkation at Bougival – J.M.W. Turner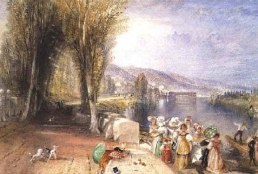 A great traveller, Turner sketched the banks of the Seine on the spot in a "River Seine" travel notebook.
He then worked the sketch in watercolours in a larger format so that prints could be produced for publication.
This landscape can be qualified as modern and picturesque insofar as the banks of the Seine are brought to life with elegant figures painted with extreme attention to detail and, in the distance, the watercolour depicts the famous "Marly Machine" in light softened by the mist.