The Bridge at Bougival – Claude Monet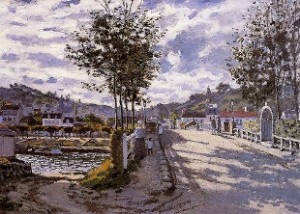 In this great painting, the painter exploits the spatial relationship between the road crossing over the bridge in the direction of the village and the track on the left going down to the river.
Autumn is depicted clearly; russet-coloured leaves are still clinging to the branches and the sun, the trajectory of which has become very low on the horizon, projects wide, oblique shadows. Large wispy brushstrokes admirably recreate the appearance of windswept sky. Bougival quay in the background has hardly changed.