The Montgolfière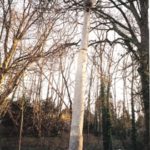 This monument, in the shape of a column, was erected in 1818 by the writer and politician Boissy d'Anglas, in honour of his friends, the Montgolfier brothers.
It is all that remains of a magnificent property of 27 hectares (about 67 acres) called "Le Val d'Anglas" (the valley of Anglas), owned by the former Deputy of Annonay in the States General, who had become a Count of the Empire before being made a Peer of France by Louis XVIII and joining the French Academy.
It is situated at the far end of the grounds.
Résidence la Montgolfière
59 à 68, quai Boissy d'Anglas