Town Centre and Saint-Michel District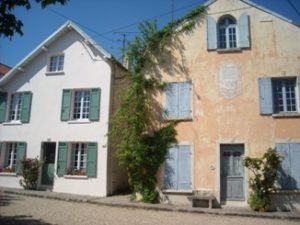 A walk which will take you to the St-Michel district, one of the oldest parts of Bougival. There you will notice some small winegrowers' houses nestling against each other, with an outdoor flight of steps concealing the entrance to some vaulted cellars.
In 1869, the year Impressionism began, Claude Monet lived there with his wife and son.
Start Car park of the Bouzemont Foundation
1- Berthe Morisot's house, currently a medical practice.
Walk through the underground passage.
2-Go up avenue de la Drionne (pavement on the right)
3- Chalk and limestone quarries (Cellars) and Stonemason
4- Take rue St-Michel and walk up towards the cemetery
5- Continue along rue Georges Bizet to reach place de la Chapelle (St-Michel district)
6- Turn right into rue d'Estienne d'Orves and walk up to place J-E Couturier (group of colourful houses)
7- Go back down taking the road on your right and walk to the Wash house with its central impluvium.
8- Go back down rue du Chemin de Fer, avenue Doumic and turn left. Cross over and continue along avenue de la Drionne as far as the Town Hall that you will see on your right (bronze sculpture "Eagle of Waterloo" by Jean-Léon Gérôme)
9- Carry on and turn right near place de l'Eglise.
10- Go back down rue du Général Leclerc (Library and old drying roomon the right).
See brochure and its detailed map