The great organ of Notre-Dame of Bougival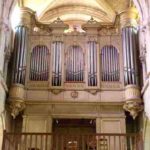 The prestigious history of Bougival's great organ began when it was built in the workshops of the famous firm of Cavaillé-Coll, which was then in the hands of his successor Charles Mutin. It was here also that the magnificent organs of the Basilica of St Denis, Perpignan Cathedral and even Notre-Dame were built.
The great organ of Bougival is composed of a total of 1216 pipes spanning a width of 5.50 m, with a depth of 1.84 m and a height extending up to 6 metres.
Cavaillé-Coll was in fact the most distinguished organ-builder of the 19th century and his international reputation still exerts its influence over the profession even today.
Completed in 1905, our organ was bought by the Protestant Consistory of Paris with the intention of adorning the concert hall of the Young Men's Christian Association.
In 1945, it was resold to the Catholic Parish of Bougival, which wanted to replace its little old organ that had been damaged in an explosion. Bougival's parish priest, Canon Journet, appealed to the inhabitants' generosity and the 400,000 francs raised by this fund made this prestigious purchase possible.
The huge instrument was then installed in March 1946 by the organ builder Paul Marie Koenig. He was the last specialist to provide it with such thorough care.
Since 1998, the parishioners have joined forces with a view to restoring this historical instrument. Their commitment and the rich legacy represented by the instrument were recognised in 2008 when the great organ of Bougival was listed as a historical monument.
To ensure that this masterpiece is not forgotten, the Heritage Foundation, Bougival Town Hall and Friends of the Organ invite you to safeguard Bougival's great organ by making a donation for the restoration of this magnificent instrument.