The Marly Machine – Alfred Sisley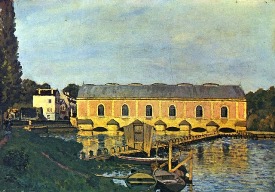 From Louveciennes where he settled, Sisley confirmed his talent as a landscape painter exploring the loop in the Seine.
The so-called Marly Machine, painted several times, housed the new hydraulic machine that brought water to Marly reservoir. The painter set up his easel opposite it: the precise shapes of the red-bricked building block off the landscape and are reflected with colourful strokes in the water of the river brought to a standstill by the needle dam. The interplay of horizontal and vertical lines, intersected
diagonally by the dam, increase the impression of a photographic snapshot of the landscape, rendered motionless by the small boats in the foreground.